T1020 Handheld HD camera for professional users
Information
FLIR T1020 - HD 1024 x 738 pixels
We've been working towards this for 50 years: the thermal camera you've always wanted.
Born out of five decades of infrared expertise and a keen understanding of the expert's needs, FLIR's new T1K / T1020 offers outstanding infrared performance, with no sacrifice or compromise. FLIR's flagship T1K / T1020 redefines the limits of infrared imaging: true HD resolution, precision lenses like no others on the market, more than twice the thermal sensitivity of legacy uncooled systems, and the ergonomics and responsive user interface needed to make your workday easier. Find hidden hot spots faster, measure more accurately, and be the hero with FLIR's infrared powerhouse, the T1K / T1020:
Flexibility

Work more comfortably with flexible viewing, and let the T1K's rotating optical block aim for the tough angles. See how else T1K makes your inspection day easier

UltraMax™

Expand the 1k experience to as much as 3.1 MP through FLIR's unique UltraMax™ system.

 

MSX®

FLIR's patented multi-spectral image enhancement makes labels and locations easier to identify.
 

Rapid Report

Get expert reports on the fly, with just a click of a button.
 

Ease of Use

Set up programmable buttons to switch to your favorite settings fast, access touch screen tools quickly, embed geo-location, and much more.

HDIR Lenses

Superior range performance allows for accurate measurements from twice as far away.
 
Reviews
Related products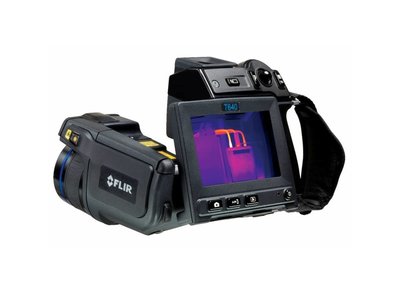 The professional-grade T660 features all of the imaging capability you need, and the features you want when you've got a demanding workload.
With a full suite of powerful image analytics tools like Delta T and MeterLink built right into the camera y...