Short description:
The FLIR C2 is the world's first full-featured, pocket-sized thermal camera designed for a wide range of building and electrical/mechanical applications.
Information
FLIR C2 Thermal Camera
The FLIR C2 is the world's first full-featured, pocket-sized thermal camera designed for a wide range of building and electrical/mechanical applications. Keep it on you so you're ready anytime to find and show hidden heat patterns that point out hotspots, energy waste, structural defects, plumbing clogs, HVAC issues, and other problems.
FLIR C2 makes it more affordable than ever to add the powerfull advantage of thermal imaging.

MSX Image enhancement only from FLIR
C2 features FLIR's unique MSX that adds key details from the onboard visible light  camera to the entire infrared image in real time. The result: an all-in-one, undiluted thermal picture with visible light features that lets you instantly recognize where the problematic heat pattern is. MSX is real-time whether watching the camera's LCD or streaming video over USB.

Pocket portable and ready to go
The slim, light profile fits comfortably in any work pocket so you can always keep your C2 at your side and never miss an opportunity to uncover invisible building issues, show them to customers, and offer helpful solutions.  Use it as an non-destructive assessment tool and a reliable way to verify the success of completed repairs.

Show more with sensitive thermal imaging and a wide FOV
The C2's 4800-pixel resolution, high sensitivity detector captures and displays subtle thermal patterns and small temperature differences useful in bulding applications. And a generous 45° field-of-view frames in more of the scene the way pros need to see it.


FLIR C2 features:

Radiometric:
Fully radiometric images lets you measure any point on the image in post analysis on scenes between
-10°C to 150°C

Touch screen:
Brilliant 3" intuitive touch screen with auto orientation for easy viewing

Spotlight:
Built-in LED spotlight you can use as a flashlight and for photo illumination

FLIR Tools:
Includes FLIR Tools professional reporting software for MAC or PC

Streaming video:
Streaming video with FLIR Tools, a feature not usually available on low-cost systems

Warranty:
FLIR's unique 2-10 warranty.



FLIR C2 Specifications:

• Compact, thin and lightweight
• 4800 thermal pixels (80x60)
• Excellent thermal sensitivity (0.10 ° C)
• Wide angle lens (41° x 31°), especially for the building sector
• Fully radiometric images for clear viewing of problems
• Bright 3" intuitive touch screen with auto orientation
• Built-in LED to take a good visual picture in dark rooms
• MSX® function: adds key details
• Fixed focus
• Temperature range of -10°C to 150°C
• Image Frequency: 9 Hz
• Color Palettes: Iron, Rainbow, Rainbow HC, Gray
• Storage Media: Internal memory stores at least 500 sets of images
• Image file format: Standard JPEG
• Battery operating time: 2 hours
• Charging time: 1.5 hours
• USB, Connector type: USB-Micro-B: Data transfer to and from PC, iOS and android


Delivery included:
- FLIR C2 infrared camera
- Battery (inside camera)
- Lanyard
- Power supply/charger with EU, UK, US, CN and Australian plugs
- Printed getting started guide
- USB Cable



Order the FLIR C2 directly on our webshop
Reviews
Related products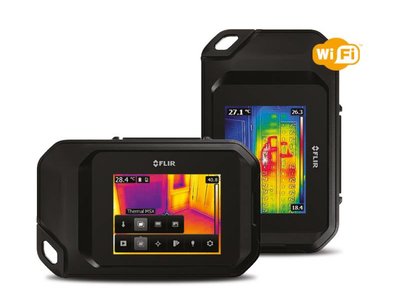 The FLIR C3 is designed to be your go-to tool for building inspections, facilities maintenance, HVAC, or electrical repair. This slim camera fits easily in your pocket so you can take it anywhere. Its integrated touch-screen is a snap to learn, so yo...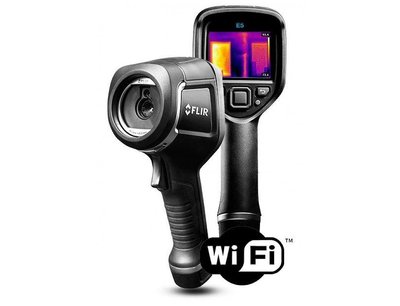 The FLIR E5 thermal camera combines thermographic and visual images. The rugged camera has a thermal sensitivity of 0.10 ° C and 10.800 pixels.